The Sharon Hughes Radio Show
THIS WEEK ON THE SHARON HUGHES SHOW

Sunday: It's Official - The World Has Gone Mad!
On July 31st, following the top news of the week, we'll look at the most unbelievable changes that have occurred in the U.S., on everything from Party Platforms, to violence and Cop Killings, Terrorism overseas and here at home, Cultural Values and Global goverment, and more.
Tune in from 3-5:00pm on KMYC 1140 AM & Streamed Live @ www.kmycradio.com


Friday: Most Outrageous! #2
On July 29th, we'll look at the most outrageous statements captured on tape, by politicians, the media, education and religious leaders, Hollywood and more. And how they have and are shaping our society.
Tune in @ 3pm to our BlogTalk Channel Streamed Live @ www.blogtalkradio.com/sharonhughes
or Listen by phone by calling 424-222-5360.
...
Changing Worldviews.Commentary
Take Action Items
S B 1146 Attacking Christian Colleges Advances
SOURCE: SAVE CALIFORNIA.com, Sacramento, California -- The Democrats that control the California Assembly Judiciary Committee have passed SB 1146 to redefine Christianity at Christian-format colleges.
"We don't want government involved in religion and we don't want religion controlling government, right? But with this bill, no matter what you do, you're going to infringe on a religious sphere and have the government deciding what is religious and what is not." -James Gallagher, Yuba City Rep.
SB 1146 "betrays a fundamental misunderstanding of what faith is. Faith is a way of life. Faith comes first." SB 1146 "derives from a thoroughly flawed perspective" by prohibiting and punishing Christian colleges' religious principles and practices.
-Donald Wagner, Irvine Rep.
SB 1146 allows students to file lawsuits against their religious-based colleges, challenging the colleges' right to have Biblical standards on sexuality, gender, and marriage in admissions, housing, employment, student counseling, and outside groups allowed on campus.
SB 1146 will next be heard in the Assembly Appropriations Committee in August when the Legislature returns from its month-long recess.
Read more at Save California
HERE.
See All Take Action Items
This Week's Featured Stories
HEADLINE NEWS

DNC Leader Resigns Prior to the DNC Convention this Week
FINANCIAL/READINESS NEWS
The Price of Silver Explodes As European Banking Crisis Deepens
20 Items to Kick-Start Your Food Storage

ODD NEWS
Meet Graham: a 'Human' Who Can Survive a Car Crash

GOOD NEWS
Warrior Angel Foundation Heals Invisible Wounds of War

FEATURED WEBSITES
Family Security Matters

FEATURED VIDEO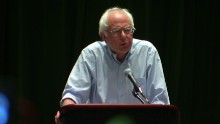 Sanders Booed After Support for Clinton

MORE ON THE B
LOG
ELECTION CENTER
PICTURE WORTH A THOUSAND WORDS
SUPPORT OUR SPONSORS

FOR 20% DISCOUNT
CLICK HERE TO ORDER &
FOR MORE INFORMATION

Get Engaged


Click to Support Our Troops Click to Rescue At-Risk Kids
Read Along with Us / Study Groups Contact Your Government
Follow Sharon on facebook Follow Sharon on twitter
Our Mission
Hi, I'm Sharon Hughes, and the Founder and President of The Center for Changing Worldviews and the host of Changing Worldviews TALK Radio. Our mission is to inform on the heart of the issues, and changing world views of our day, as well as engage individuals in civic responsibility so that America will be a land of liberty, and re espect human dignity, family integrity, and public and private virtue.

The more I interview experts on the issues of our day, the more impressed I am with the passion and dedication of men and women, (guests and listeners alike), who tirelessly take on the challenges of the 21st century.

Therefore, whether on the Radio Show, at teaching and speaking engagements, through our Book Club Study Groups, or on our website(s), we are dedicated to equipping and inspiring individuals to stand strong, in faith, in the day in which we live, and to engage in our culture in effective ways.

The Center for Changing Worldviews advocates for at-risk-children through Operation ARC, and supports our Troops through Operation Heartlift. We are not sustained by any political or special interest group. Our efforts are funded entirely by the voluntary financial support of friends and sponsors like you.
More Ways To Connect
This Week's Poll
Who Do You Think Will Win The General Election?
ON THE AIR
The Sharon Hughes Show
SUNDAYS 3-5:00pm PST
Tune in to KMYC 1410 AM
>LISTEN LIVE ONLINE HERE
Friday 3:00pm PST
Live Online @


>ARCHIVES
GO HERE FOR:


SUPPORT OUR SPONSORS

FOR 20% DISCOUNT
CLICK HERE FOR MORE INFORMATION & TO ORDER

QUOTES OF THE WEEK
History Quote...

"Times have changed. But the basic premise of the consitution hasn't changed. It's still our blueprint for freedom." -Ronald Reagan


News in Quotes...


"Prayers and condolences to all of the families who are so thoroughly devastated by the horrors we are all watching take place in our country"-Donald Trump
You Gotta Be Kidding! ...



"Here's what I think. I think it's [Indiana Governor] Pence. I think [Mike] Pence is almost horny for the job. It's clear that he wants it. It's clear that he thinks it's his....Can he [Donald Trump] put up with a churchy guy like Pence? Pence is so churchy. I mean, the only thing about Donald Trump, he can say all he wants about religion, he ain't churchy. That's one thing he's not." -Chris Matthews on MSNBC's Hardball
UPCOMING EVENTS
Book Club - Monthly Conference Call
Sign Up: Email info@changingworldviews.com
Invite Sharon to speak to your group. Call: 707-322-3632
Or Contact info@changingworldviews.com

Calendar Page
WHAT OTHERS ARE SAYING
"I love the way you have broken this subject down! (The Rise of Chrislam). I will be speaking on this on my show very soon. Thank you!" -Dr. Derrick Henderson
"I appreciate your content and the fact you are very alert. Thank you for standing for integrity, truth, our Military and the nation of Israel." -Brian Bolton

"I so appreciate all you do to help keep us informed." -Kris Seidler
"Truth Woman! Truth has fallen in the streets; we need the Belt more than ever!!" -Steve Simpson


"My reception is not very good so I have my ear plastered against the radio trying to catch every word!" -Sara Haskins
READ SHARON ALSO AT
INDEX
MONTHLY VISITORS