This Week's Line-Up
4:30 PM PST - M, W, F, Sat 3:00 PM PST - T, Th, Sun After Shows Air
CLICK TO LISTEN Online CLICK TO LISTEN Online LISTEN in Archives

Monday - Ukraine/Russia is Getting Ugly!
Things got really ugly over the Easter weekend in the Ukraine with a shooting standoff; and leaflets were disseminated calling for all Jews over 16 yrs old to register as Jews! Plus, Putin denied Russia using surveillance in answer to a question from NSA leaker Edward Snowden.

Tuesday - RIGHTalk: Middle East Peace Talks an Oxymoron?
Live Stream Show @ 3pm PST on BlogTalk Radio - LISTEN ONLINE or Call: 424-222-5360
Author and Middle East expert, Avi Lipkin, is Duane's guest to talk about the Israeil-Palestinian conflict and U.S. failed 'peace talks' conditions. Plus, how real is the Iranian threat and what are Israel's plans for rebuilding the temple? And much more. Don't miss it!

Wednesday - ObamaCare - Now What?
The White House is crowing that they have 8 million people now who have signed up for ObamaCare; but are not talking about the increase in premiums and decrease in healthcare benefits for Americans. Plus, coverage of other top federal government actions and news.

Thursday - REELTalk: Persecution and Sharia Creep
Live Stream Show @ 3pm PST on BlogTalk Radio - LISTEN ONLINE or Call: 424-222-5360
Joining Audrey Russo for this week's REELTalk edition of Changing Worldviews is Author & researcher Raymond Ibrahim to gives us an update of the persecution of Christians under Islam. Plus, Dr. Peter Hammond to discuss Sharia Creep and Commie Creep in the West. We're focused on Truth like a laser!
Friday - Reid vs. Bundy: "They're Domestic Terrorists"
Senator Harry Reid came out after the standoff between Nevada Rancher Clivan Bundy and the FEDS subsided, picking a fight, this time calling Bundy's supporters "Domestic Terrorists." Why? Information has come forth that the Senator is involved in a building project on the land.

Saturday - WOMANTalk: Good vs. Evil Governments
Debra Rae and Audrey Russo join Sharon to talk about international, national and radical laws that violate freedom of speech; that overburden taxpayers; and more. Which would you check off as 'good' or as 'evil' government? Lots of examples.

Sunday - GODTalk: Brad Stine in the PC-Free Zone
Changing Worldviews.Commentary
Take Action Items
Stop The Imperial Presidency!


EAGLE FORUM -- President Obama declaring, "I've got a pen and I've got a phone," displays his constant threats to bypass Congress and use executive action to promote favorite policies or undo statutes.
It is time to remind President Obama of his Constitutional obligation "that the laws be faithfully executed." Reps in the House of Representatives are focusing on this imperial presidency through hearings and legislation taken up on the floor highlighting the Obama administration's frequent and arbitrary use of executive power.
Two bills that deserve your attention as part of the effort to restore checks and balances in the federal government:

H.R. 3973
– Faithful Execution of the Law Act: Sponsored by Rep. Ron DeSantis (R-FL), this bill would require the Attorney General to report to Congress whenever a federal office refuses to execute a law or uphold a final court decision.


H.R. 4138
– ENFORCE the Law Act: Sponsored by Rep. Trey Gowdy (R-SC), this bill would establish a process for expedited legal action against the executive branch when it refuses to faithfully execute the laws. If either House of Congress passes a resolution declaring that the president has refused to enforce laws, it can file a civil action in a U.S. district court, with any appeals expedited directly to the Supreme Court.


TAKE ACTION
via Eagle Forum
See All Take Action Items
This Week's Top News Stories
HEADLINE STORY
Reid Defends Statement Calling Bundy Supporters "Domestic Terrorists"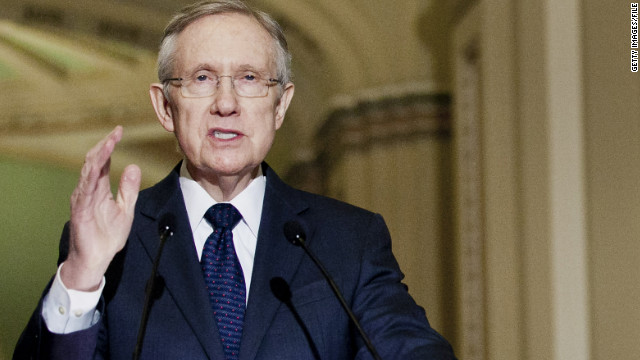 CNN -- In a blunt exchange that hit on a major American divide, Senate Majority Leader Harry Reid, a Democrat from Nevada, stood by his comments that militia groups involved in a ranch standoff are "domestic terrorists," while the state's Republican senator, Dean Heller, replied that he considers them "patriots." The two men appeared Friday afternoon on KSNV's "What's Your Point?" question-and-answer show. The first question went to Reid, about his comments that a few hundred people protesting and blocking federal action against rancher Cliven Bundy are "domestic terrorists." "What did you mean by that?" co-host Amy Tarkanian asked. "Just what I said," Reid responded.
MORE TOP NEW
40,000 Russian Troops on Ukraine Border as NATO Warns of Possible Invasion
IRS Prepares to go After ObamaCare Mandate Fines
New Poll: 62% Don't Trust Obama to Stop Iranian Nuclear Weapon
Al Jazeera Tanks, Lays Off Dozens
GOOD NEWS
Gay-to-Straight Program to be in all Tennessee Schools May lst

WEBSITE OF THE WEEK
Rutherford Institute

VIDEO OF THE WEEK


D'Souza Films Bundy Ranch 'domestic terrorists'

MORE AT THE BLOG
ELECTION CENTER
Contact the White House Contact US Senators Contact US Representatives
202-456-1111 202-224-3121

Party Platforms

Track Your Senators' and Representative's Votes
A PICTURE WORTH A THOUSAND WORDS
Opeation Heartlift & Operation ARC


Thank you to everyone who supported our Support our Troops event and helped us send Survival Bracelets, homemade cookies, cards and other goodies to a whole Battalion of Special Forces Troops in Afghanistan. Here's just one of the 'thank yous' we've received from them...

Thank You From our Troops...
"I just wanted to send you an email and thank you for the packages you guys sent to us. It really means alot to know that someone besides our immediate families are still thinking about what we are doing over here. The bracelets were awesome. A few of the guys got reading assignments on the Constitution as well. I can't say thank you enough." -Justin Kobler

See article in Petaluma Patch on this effort.


Thank You! for Liberty Love Donations
Your donations of $10.00 sent Neck Coolers, homemade cookies and lemonade pkts to Troops in Afghanistan during the hot summer, for our Liberty Love campaign.


Next Mission: Stay Tuned!

See pictures and more - visit OHL's website






Help Us Rescue At-Risk-Children





Helping to rescue children of prostitutes and young girls out of the sex-trafficking industry, and other at-risk-children overseas and here at home.

See more information - click here.

Please Support our Troops & help us rescue at-risk-children
Send Your Donations to:
Changing Worldviews/Operation Heartlift or Operation ARC
PO Box 750-624
Petaluma, CA 94975-0624
Thank You! All donations for OHL & OARC go directly to these projects.

Our Mission
The Center for Changing Worldviews' mission is to inform of the changing world views of our day, and promote civic responsibility so that America will continue to be a land of liberty, respect human dignity and family integrity, as well as public and private virtue. Changing Worldviews with Sharon Hughes daily Talk Radio show, is heard on KDIA AM 1640 our flagship station out of the San Francisco Bay Area, and on other stations across the nation, and around the world online. The Center holds periodic events and conferences, with expert guest speakers on the critical issues of our day, and to advocate for at-risk-children through Operation ARC, and our Troops through Operation Heartlift. Changing Worldviews is not sustained by any political or special interest organization. Our mission, radio show, and outreach projects, are funded entirely by the voluntary financial support of American patriots and friends like you!
Places to Listen
More Ways To Connect
This Week's Poll
Do You Think We Are Entering A New 'Cold War'?
ON THE AIR

The Sharon Hughes Show
4:30 PM PST - M, W, F, SA

KDIA AM1640
San Francisco Bay Area
(Also Streamed Online Live Here)

Our BlogTalk Radio Team
3:00 PM PST - T, Th, Sun
LIVE! CLICK HERE for BlogTalk Radio
Call-In Number: (424) 222-5360
Join us in the Chat Room

STUDY GROUPS
April - June 2014




Second Quarter of 2014:
Here's what we're reading. Join us to read along on your own or join/start a study group in your area.

Click here for information on book

Find out how to join or start a study group: Contact: TALK@changingworldviews.com

UPCOMING EVENTS
SPEAKING

Sharon
Repair, Rebuild, Restore! Study
WIC Luncheons/Studies
May 2014
Rohnert Park, CA

Contact for more information
into@changingworldviews.com

Calendar page
QUOTES OF THE WEEK
History Quote...
"Of the four wars in my lifetime, none came about because the U.S. was too strong." - Ronald Reagan

News in Quotes...
"He (Pres. Obama) appears to be a totally secularized man who aggressively promotes anti-life and anti-family policies." -Cardinal Raymond Burke


You Gotta Be Kidding! Quotes...
"So this is about as nonpartisan a president as I've ever served with." -Nancy Pelosi speaking of Pres. Obama
MONTHLY EMPHASIS


April is...
"Good vs. Evil"
Month
The battle of Good vs. Evil permeates history and culture in every generation. This month we'll be looking at the good vs. the evil in government, healthcare, entertainment and religion all month; asking your for your views and comments, as these are top issues today.

WHAT OTHERS ARE SAYING
"Thanks for keeping us informed - your work is so important." -Myles Weiss, Zola Levitt TV
"Your show is so much more relative with the unrest in the world and craziness happening from schools to persecution of political correctness." -Stella Lohmann
RATINGS



Gives Sharon 100% Credibility
Rank in Journalism
Read Sharon Also At:
FrontPageMagazine

The People's Cube

The Patriot Post

Family Security Matters

Canada Free Press
INDEX
MONTHLY VISITORS