Quotes on Culture
"If you are writing children's books, you need to be a ruthless killer."
Jk Rowling, Author Harry Potter Books
"The religious right has clearly adopted the tactics of professional victimhood, to the point of now essentially casing themselves in the role of perpetual martyrs. A group that controls every branch of government and most cultural institutions has somehow"
Ed Brayton, Dispatches From The Culture Wars
"She does not want truth: What is truth to a woman! From the very first nothing has been more alien, repugnant, inimical to woman than truth - her great art is the lie, her supreme concern is appearance and beauty."
Nietzsche
"The peak of tolerance is most readily achieved by those who are not burdened with convictions."
Alexander Chase
"Technopoly is a state of culture. It is also a state of mind. It consists in the deification of technology, which means that the culture seeks its authorization in technology, finds its satisfactions in technology, and takes its orders from technology."
Neil Postman
"...it is we ourselves who alone make truth, make value, and so have formed the reality that now encompasses us."
Don Cupitt
"The chief excitement in a woman's life is spotting women who are fatter than she is."
Helen Rowland
"Ok, assume that you will end up divorced and won't see your kids and lose half of your assets, how different is that from being married?"
No Marriage.Com
Back to All Quotes
More Ways To Connect
This Week's Poll
Who Is Responsible For The Current Economic Recovery?
THE SHARON HUGHES SHOW
ON THE AIR

SUNDAYS 3-4:00pm PST



Tune in to KMYC 1410AM
LISTEN LIVE ONLINE HERE

SUNDAYS 10-11am MTN

Tune in to KYAH 540AM
LISTEN LIVE ONLINE HERE

STREAMED ONLINE

SATURDAYS & SUNDAYS 7-8:00am EST

LISTEN LIVE HERE
SUNDAYS 6-7:00am EST




MONDAY, WEDNESDAY, FRIDAY & SATURDAY



LISTEN HERE 24/7

OTHER VENUES
NOTABLE QUOTES
Historical Quote
News Quote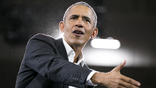 "Don't be hoodwinked. Don't be bamboozled. Don't let them run the okey-doke on you. Because while they are trying to distract you with all this stuff, they are robbing you blind. They'll be like: 'Look, look, look! Caravan, caravan!' Then they're giving tax cuts to their billionaire friends. 'Look, look, look! Whatever is the thing scary.' And then they're sabotaging your health care. You can't fall for it." -Barack Obama campaigning for Democrats
You Gotta Be Kidding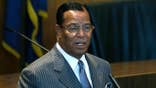 "Today, I warn the American government that sanctioning Iran is a big mistake." -Louis Farrakhan in Iran

UPCOMING EVENTS



Book Club
Read along with us!
Questions: Email info@changingworldviews.com
Invite Sharon to speak to your group. Call: 707-322-3632
Or Contact info@changingworldviews.com

Calendar Page
MONTHLY EMPHASIS



RESCUE THE CHILDREN MONTH
We started Operation ARC in 2010 as a vehicle to support those with "boots on the ground" working to rescue at-risk-kids out of sex trafficking specifically, and out of homelessness and hopelessness generally, overseas and others here at home.
Thank you for your support. It makes all the difference in the world in the life a child. We hope to do more with your help.
You can make a donation HERE - just click on one-time donation and indicate OARC.
SPONSOR OF THE MONTH
WHAT OTHERS ARE SAYING
"I so appreciate all you do to help keep us informed." -Kris Seidler
"Truth Woman! Truth has fallen in the streets; we need the Belt more than ever!!" -Steve Simpson


"My reception is not very good so I have my ear plastered against the radio trying to catch every word!" -Sara Haskins
READ SHARON ALSO AT
INDEX
MONTHLY VISITORS