Quotes on Government
""The world expects us to elect pompous yahoos and instead we have us a 47-year-old prince from the prairie who cheerfully ran the race, and when his opponents threw sand at him, he just smiled back." "
Garrison Keillor
""Barack Obama is our collective representation of our purest hopes, our highest visions and our deepest knowings . . . . He's our product out of the all-knowing quantum field of intelligence." "
Eve Konstantine
"The Constitution is like my old blue dress ... it doesn't fit anymore."
Rep. Ellen Tauscher, (Democrat, California)
"We now learn Saddam's torture chamber reopened under new management. (speaking of recent US soldiers' treatment of Iraqi prisoners) "
Senator Ted Kennedy
"...nationhood as we know it will be obsolete..." and he looks forward to the coming "birth of the Global Nation."
Strobe Talbott, President, Brookings Institution, Co Sponsor Of Cog (Continuity Of Governement)
"Democracy substitutes election by the incompetent many for appointment by the corrupt few."
George Bernard Shaw (1903) "Maxims For Revolutionists"
Back to All Quotes
More Ways To Connect
This Week's Poll
Who Is Responsible For The Current Economic Recovery?
THE SHARON HUGHES SHOW
ON THE AIR

SUNDAYS 3-4:00pm PST



Tune in to KMYC 1410AM
LISTEN LIVE ONLINE HERE

SUNDAYS 10-11am MTN

Tune in to KYAH 540AM
LISTEN LIVE ONLINE HERE

STREAMED ONLINE

SATURDAYS & SUNDAYS 7-8:00am EST

LISTEN LIVE HERE
SUNDAYS 6-7:00am EST




MONDAY, WEDNESDAY, FRIDAY & SATURDAY



LISTEN HERE 24/7

OTHER VENUES
NOTABLE QUOTES
Historical Quote
News Quote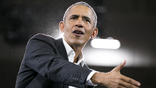 "Don't be hoodwinked. Don't be bamboozled. Don't let them run the okey-doke on you. Because while they are trying to distract you with all this stuff, they are robbing you blind. They'll be like: 'Look, look, look! Caravan, caravan!' Then they're giving tax cuts to their billionaire friends. 'Look, look, look! Whatever is the thing scary.' And then they're sabotaging your health care. You can't fall for it." -Barack Obama campaigning for Democrats
You Gotta Be Kidding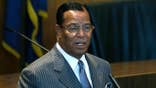 "Today, I warn the American government that sanctioning Iran is a big mistake." -Louis Farrakhan in Iran

UPCOMING EVENTS



Book Club
Read along with us!
Questions: Email info@changingworldviews.com
Invite Sharon to speak to your group. Call: 707-322-3632
Or Contact info@changingworldviews.com

Calendar Page
MONTHLY EMPHASIS



RESCUE THE CHILDREN MONTH
We started Operation ARC in 2010 as a vehicle to support those with "boots on the ground" working to rescue at-risk-kids out of sex trafficking specifically, and out of homelessness and hopelessness generally, overseas and others here at home.
Thank you for your support. It makes all the difference in the world in the life a child. We hope to do more with your help.
You can make a donation HERE - just click on one-time donation and indicate OARC.
SPONSOR OF THE MONTH
WHAT OTHERS ARE SAYING
"I so appreciate all you do to help keep us informed." -Kris Seidler
"Truth Woman! Truth has fallen in the streets; we need the Belt more than ever!!" -Steve Simpson


"My reception is not very good so I have my ear plastered against the radio trying to catch every word!" -Sara Haskins
READ SHARON ALSO AT
INDEX
MONTHLY VISITORS