Commentaries for Rick Pearcey
Olbermann Vs. America
In many ways what you are seeing in Keith Olbermann's performance (Olbermann Renews "Teabagging" Attack on Scott Brown) is what American government and society would look like if secularist "liberalism" -- a worldview that rejects the Founding concept of a Creator who is the source of unalienable rights (and human reason and empirical data, by the way) -- wins the day.

That kind of secularism, if logically extended and lived upon, results in the abolition of unalienable rights, rational discourse, and the appeal to evidence. You will hear talk of "living Constitutions" and "values," but really all that's left is the inhumane application of raw power -- in the womb, the workplace, and the White House.

It is a recipe for America as wasteland.

For a Pretend Creator (i.e., a federal state) is not strong enough to carry the weight of rights, reason, and evidence. That kind of "god" will be crushed, and all that depends upon that kind of pretension will be crushed with it, including those who try to build a free society upon it.

Yesterday's vote in Massachusetts is a vote against estrangement from our national and creaturely identities. Yesterday stems the tide against freedom, and for that we give thanks.

But strategic victory and a strategic initiative await a critical mass of Americans who insist on returning homeward (and thus forward) to the Founding Vision -- the Declaration, the Constitution, etc. -- where a real Creator and not the pretend god of the secular state is recognized as the center of gravity of human freedom.

I have said and written many good things about the views of Sarah Palin, but it should be pointed out that her heartfelt affirmation of a "commonsense, independent agenda" may not be enough to meet the strategic challenge of our moment in history. For "commonsense" could have made you a slave in Athens, eaten by lions in Rome, headless in France 1793-94, "verboten" in Deutschland, and frozen in the workers' paradise.

And perhaps rather surprisingly (ask King George), you could say that what the Founders gave us was actually uncommonsense, given the history of humanity in this hard world.

Yes: Extremely uncommon is the vision of the Declaration and content of the Constitution. Sadly, these brilliant documents do not keep us from making mistakes; happily, they do give us a basis for correcting them.

In contrast to secularists past and present, the Founding Vision gives a fixed point that liberates -- with a real Creator as the basis for real unalienable rights. Having a secure foundation is a good thing, because without a fixed point, talk of progress has no meaning.

I hope no one concludes from this a calling to hate an anchor on MSNBC, however heated or misguided the debate might be. The point is not hate, but love. Love of freedom and all the Blessings of Liberty from the One who gives the blessings, for everyone. This too is uncommonsense.



Other Commentaries by Rick Pearcey
The Terror Of Sarah Palin
Why We Revolt: Show Me The Healthcare Bill!
The Collaborationist Media
Beauty And The Beast: Resisting The Reactionary Extremism Of Perez Hilton
All Commentaries
More Ways To Connect
This Week's Poll
Who Is Responsible For The Current Economic Recovery?
THE SHARON HUGHES SHOW
ON THE AIR

SUNDAYS 3-4:00pm PST



Tune in to KMYC 1410AM
LISTEN LIVE ONLINE HERE

SUNDAYS 10-11am MTN

Tune in to KYAH 540AM
LISTEN LIVE ONLINE HERE

STREAMED ONLINE

SATURDAYS & SUNDAYS 7-8:00am EST

LISTEN LIVE HERE
SUNDAYS 6-7:00am EST




MONDAY, WEDNESDAY, FRIDAY & SATURDAY



LISTEN HERE 24/7

OTHER VENUES
NOTABLE QUOTES
Historical Quote
News Quote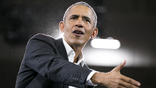 "Don't be hoodwinked. Don't be bamboozled. Don't let them run the okey-doke on you. Because while they are trying to distract you with all this stuff, they are robbing you blind. They'll be like: 'Look, look, look! Caravan, caravan!' Then they're giving tax cuts to their billionaire friends. 'Look, look, look! Whatever is the thing scary.' And then they're sabotaging your health care. You can't fall for it." -Barack Obama campaigning for Democrats
You Gotta Be Kidding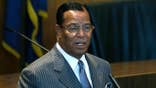 "Today, I warn the American government that sanctioning Iran is a big mistake." -Louis Farrakhan in Iran

UPCOMING EVENTS



Book Club
Read along with us!
Questions: Email info@changingworldviews.com
Invite Sharon to speak to your group. Call: 707-322-3632
Or Contact info@changingworldviews.com

Calendar Page
MONTHLY EMPHASIS



RESCUE THE CHILDREN MONTH
We started Operation ARC in 2010 as a vehicle to support those with "boots on the ground" working to rescue at-risk-kids out of sex trafficking specifically, and out of homelessness and hopelessness generally, overseas and others here at home.
Thank you for your support. It makes all the difference in the world in the life a child. We hope to do more with your help.
You can make a donation HERE - just click on one-time donation and indicate OARC.
SPONSOR OF THE MONTH
WHAT OTHERS ARE SAYING
"I so appreciate all you do to help keep us informed." -Kris Seidler
"Truth Woman! Truth has fallen in the streets; we need the Belt more than ever!!" -Steve Simpson


"My reception is not very good so I have my ear plastered against the radio trying to catch every word!" -Sara Haskins
READ SHARON ALSO AT
INDEX
MONTHLY VISITORS