Building a Marriage that Lasts a Lifetime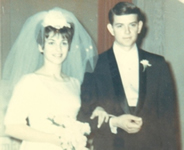 One day while at the radio studio, I was talking with two young, single men who were producing a show, and the subject of marriage came up. When they found out how long my husband and I have been married … and that we are still sincerely in love …their response was noteworthy.
They were at the same time genuinely congratulatory and really surprised.
Congratulatory because … marriages that have lasted as long as ours is not the norm.
Surprised …because we were still in love … romantically in love … after all these years.
There is a universal recognition of the accomplishment it takes to have a long, successful marriage. Accomplishment, not just because of longevity, but because of quality.
I believe that most couples get married with the conviction that their love will last forever.
Unfortunately, for way too many couples, this is not the case. Not only do half of all marriages end in divorce today, but according to a recent poll, half of the women who are now married would like to get out of their marriages. Why would that be?
Well, for some women abusive relationships qualify their desire to be out of their marriages, but for the majority of those who want out I believe it has to do with something else. That something else I would venture to say has to do with unrealized or unrealistic expectations …and cultural conditioning.
A good question to ask is which came first? Unrealistic expectations or cultural conditioning? In other words…have the 'desperate housewives' or 'sex in the city' or other unhealthy-for-marriage modern models had a major effect on couples today, or were marriages entered into with expectations that were unrealistic?
We'll explore this question more in future articles, but since February is the month of Valentines, let's reverse the order and give some suggestions of proven solutions for building a healthy, long and satisfying marriage first.
There is no better gift you can give your marriage than to decide to rediscover the mutual love and commitment you had when you said "I do."   Remember, a successful marriage not only takes love, it takes work …the work of overlooking weaknesses, of forgiving, of respecting, of sacrificing, of making the effort to keep the romance alive … everyday.
Here are a few resources I can highly recommend to get you started:
The Marriage Course – internationally
The Marriage Course – SF Bay Area
Have you wondered how ovulation testing kits work ? Read the info on the article and find out the science behind this simple technique.